Do you have a new hire to train, while working within a busy service schedule?
Did you know that learners can gain new skills with short, daily lessons? Our online HVAC training is designed for busy workers. Through bite-sized, interactive lessons laid out in an organized curriculum, and with virtual simulations, the Virtual BuildATech® program guides new technicians through the proper troubleshooting and maintenance techniques.
You know that training is essential to employee performance, but that doesn't make it easy to schedule during busy times. We get it, and that's why we offer this course. Virtual BuildATech allows new maintenance techs to build their knowledge of correct procedures (including safety best practices), while gaining hands-on experience with your team in the field.
Virtual BuildATech®
Course Highlights
Self-Paced and On-Demand
Virtual BuildATech® is available 24/7, and the program is self-paced, so students complete it at their learning speed, and as time allows. If a student's schedule permits, the curriculum can be completed in as little as 4 weeks.*
Interactive Learning
The course features a three-dimensional HVAC Troubleshooting simulation, allowing students to walk through a service call while working from their own (or the office's) computer.
Comprehensive Materials
The curriculum includes 34 modules, covering topics such as HVAC fundamentals, electrical, cooling, heating, leak detection, air distribution, technician communications, NATE preparation, and more.
Testing & Certifications
Each segment concludes with a proctored exam, requiring a successful passing score in order to continue. The first section ends with the EPA exam (given by the student's manager), and the program concludes with the NATE exam, proctored by a Lennox Field Technical Consultant.
Online Doesn't Mean Alone
The Lennox Learning Solutions team is here to answer questions and help students stay motivated.
*Average completion time is between 3 to 6 months.
Program Price:
$2,000
Premier dealers:
$1,600 (20% savings)
**Pricing subject to change.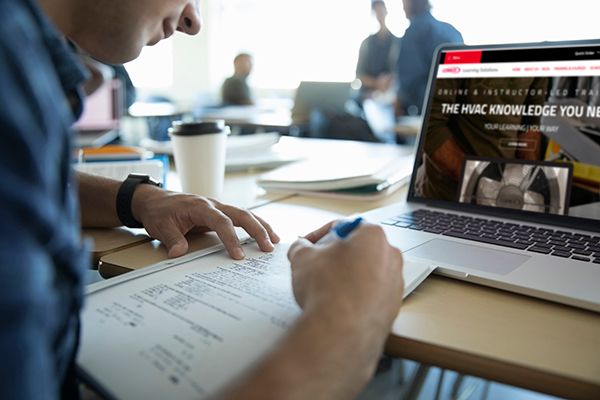 Testimonials
"The courses allowed me to understand the basic principles of HVAC. The combination of field experience and the courses made me a complete technician."
Brian R. - Virtual BuildATech graduate
"I went to proctor two graduates for the NATE exam. The candidates had no formal training prior to attending Virtual BuildATech. They passed NATE. The program prepared them for the real world. The owner felt good about his investment."
Scott P. - Field Technical Consultant