October 2021 • 3 min read
NATIONAL GET TO KNOW YOUR CUSTOMERS
DAY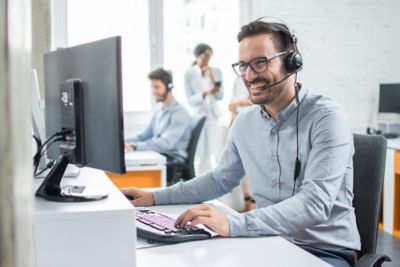 October 21st is a little-known observance in the U.S. called "Get to Know Your Customers Day." These days happen the third Thursday of each Jan, April, July and October. Whether you mark these exact dates or not, taking time quarterly to reflect on your customers is ideal.
HVAC brands are in the business of making people comfortable. Getting to know your customers on a deeper level can influence how you service your customers and even how you use marketing to find new ones. It is up to
five times more costly to attract a new customer than to retain an existing customer.
We've tapped experts in HVAC business and marketing to give you 3 ways you can participate in Get to Know Your Customers Day:
1. Ask Your Customers to Complete a Survey
Strategic America has been a trusted marketing partner to Lennox and Lennox dealers for more than 40 years. Emily Bussiere is the Director of Data, Research & Insights at Strategic America. Emily's recommendation for HVAC dealers is a survey. "The best way to learn about your customers is to simply ask them and listen!" said Emily. "An easy way to get feedback from your customers is to send them a survey after the service or install is complete. To increase response rates, you can offer a simple gift in return, such as a gift card to a local coffee shop. These surveys can help you understand who your customers are, why they purchased from you instead of a competitor, what is important to them, and how you can maintain their loyalty for years to come."
2. Perform a Customer Analysis
Emily's second tip involves getting richer data about your customers. "Data companies can help you enrich your customer data with variables such as age, home value, household income, age of home, marketing channel preferences and lifestyle information," says Emily. "This allows you to identify who your most valuable customers are and how to retain them. When you know who your best customers are and what marketing channels and messaging will be most effective, you can build marketing strategies that are highly targeted and more effective."
"We performed a customer analysis for a home products and services company, and one of the key insights was that consumers ages 65 and older were 1/3 of their customer base. We developed a marketing campaign specifically targeted to this audience using tailored messaging and a unique offer – and as a result – their Return on Marketing Investment increased 160%," said Emily.
For Lennox dealers with a Full Service CAP package, Strategic America's data, research and insights team has new service offerings available that can help you better understand your current customers and what marketing messages and tactics best resonate with them. They can also assist with identifying new growth opportunities for your dealership, including geographic areas best suited for an expansion of your service area. Want to know more? Contact Lindsey Moore, the Lennox Account Director at Strategic America, at lmoore@strategicamerica.com
3. Use Social Media to Learn About Your Customers' Favorites and Turn Offs
JJ Salais is the Digital Customer Success Manager for Lennox Residential. His recommendation to get close to customers is to leverage social media channels to learn your followers likes and preferences. Try a monthly contest which asks them to submit a picture showing their favorites and interests or to answer a simple poll.
Here's an example of a "get to know you" social media post from JJ:
"Fall is here! So let's settle the debate of Pumpkin Spice. Are you a Pumpkin Spice and everything nice kind of person or Pumpkin Spice should be banned person? Post a picture of your favorite Pumpkin Spice dish/dessert or Post a funny picture of how it should be banned/destroyed. All entries will be placed in our online drawing and the winner will win a free fall maintenance."
Go live on your social media channel and do the drawing with a tool like Pickerwheel
Understanding how your customers feel about current issues, local sports, pop culture and more can give you insights about their demographics and spark ideas for your marketing campaigns. Social Media platforms can also provide some insights about your followers' demographics.