Smart Homes Deserve Perfect Air
Lennox has expanded iComfort® thermostats compatibility to include premium, professionally installed, smart-home automation platforms. That means perfect air can be part of more smart homes than ever before, all managed through one convenient control.
Effortless Integration
This means you can now unlock the full potential of any Lennox® heating and cooling system with our suite of Lennox iComfort smart thermostats. Our smart thermostats effortlessly integrate with a wider range of smart home devices— from premium smart home systems like Control4 to popular virtual assistants like Amazon Alexa, Apple HomeKit*, Google Assistant, and IFTTT. Best of all, iComfort smart thermostats are more than mere temperature regulators—they are a pathway to perfect air.
*Apple HomeKit not supported by IComfort M30
Get All the Options
Our distinguished partnership with Control4 provides you one more way to win at the kitchen table by offering more options than most other manufacturers.
For instance, Lennox digital equipment teamed with the iComfort S30 now promises both precise comfort and full automation.
Even our non-digital equipment, matched with iComfort E30 and S30, offers many of the benefits of a premium smart home system. And finally, because this integration is backwards-compatible, an iComfort thermostat that's already installed can be fully integrated with a new or existing Control4 platform.
How does this integration work?
A Control4 customer with a new or existing Lennox HVAC system and iComfort S30, E30, or M30 can call their Control4 dealer to request integration. To set it up, all Control4 needs to do is download the Lennox API from the Control4 library.
Once a smart-home system is installed, it can be controlled through a number of options, not just the iComfort thermostat and mobile app. In the case of Control4, a variety of interfaces are available that place the S30, E30 or M30 icons on the main screen. That means iComfort is front and center when needed.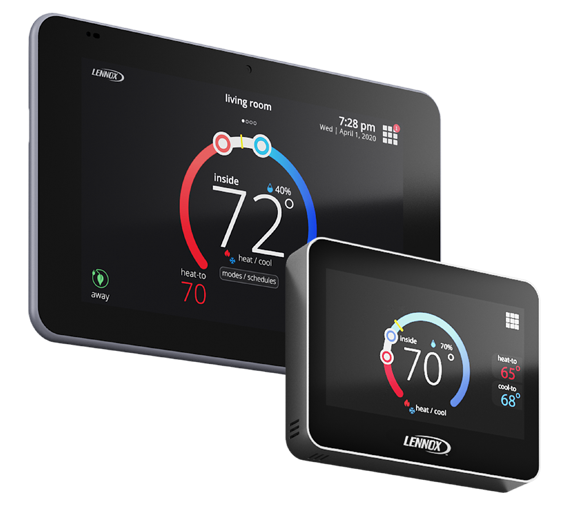 The Right Amount of Control
Here are the parameters that a homeowner can change through Control4:
Display all systems in the home and select a system
Display all zones in the system and select a zone
Turn system/zone ON/OFF
Change manual modes
Change set-points for each zone/system
Change fan mode
Note that these are the only Lennox parameters a homeowner can control through their Control4 system. Lennox is not providing the Control4 platform with error-code alerts. These, as well as notifications, will continue to go to dealers and homeowners only. In addition, the Control4 platform will not be able to communicate with our digital equipment. This will still be done through the remote diagnostics and troubleshooting features found in our Service Dashboard.

Additional thoughts about Control4
Keep in mind that a homeowner may already have or be considering the installation of a smart-home system by a Control4 dealer. And because it's a lot like having a Lennox dealer install a Lennox system, you can feel at ease recommending it. Having such a premium system professionally installed means they can enjoy the benefits of years of experience, hands-on training, and access to an award-winning tech-support team.
The Control4 model is very similar to our own. Control4 is a manufacturer with independent Control4 dealers. In some cases these are small dealerships where the owner does everything—sales, installation, and service. In other cases, they're larger dealerships with multiple employees and provide multiple services.
Homeowners may ask if there is an additional cost to the homeowner to have their HVAC system integrated into their Control4 home-automation platform. Just as a particular service charge may vary from one HVAC dealer to another, or across different states or regions, service charges from different Control4 dealers can vary as well.
Also, Control4 may have entered into a service agreement or monthly service contract with a homeowner where new integrations are included free of charge. The bottom line is, there's no way we can know whether there's a charge or how much it may be. And while the homeowner is likely aware of the pricing structure, we want both you and them to be clear on the subject so there are no surprises.
Spread the Word
Be sure to share with homeowners all these Lennox integrations, especially the expanded compatibility with premium, professionally installed, smart-home automation platforms such as Control4.
* Apple HomeKit is not supported by iComfort M30.